Posted by Lorren on October 5, 2012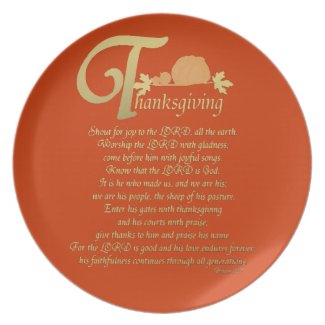 I've been thinking about my little boy's birthday, which is coming up at the beginning of next month. Shortly after that will be Thanksgiving. I'm not sure what we'll be doing this year for Thanksgiving yet; we often go to my mother-in-law's house, but we're not sure if they're going to go visit relatives in California yet or not. We'll have to see.
This Thanksgiving plate features Psalm 100. God has given us so many things to be thankful for, that it's good to set aside one day and think about all the good things in our lives. I can be thankful that my husband has less than one year of law school left, and that I still have a growing business, despite this lagging economy.
Plates are one of the newer additions to Zazzle; I think that they were introduced earlier this year. There are quite a few other popular Thanksgiving plates to choose from. They're not microwaveable, but you can set your food on it this Thanksgiving, or perhaps even put up as a display.