Posted by Lorren on November 23, 2012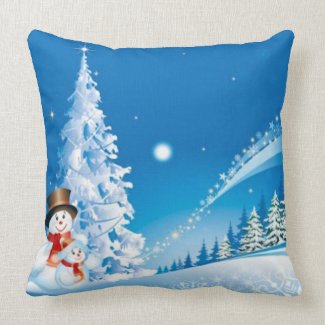 Merry Christmas! I hope that you had a wonderful Thanksgiving yesterday. For some people, that probably included a late shopping trip to take advantage of Black Friday deals. I personally think that it's a shame when stores open at 8 PM; just wait until Thanksgiving is actually over. As I am generally not a morning person, so I do like getting to the stores around midnight and then going to bed afterwards.
There are two seasons of the year that I really enjoy. One is the Christmas season. I love the colors, the "merry Christmases", the Christmas tree, and the music. Once the New Year is over, I start looking forward to my second favorite time of the year, which is summer (in Arizona, summer comes pretty early). We will probably be decorating the tree this year; I'll be getting my Christmas decorations out of the storage shed and getting everything ready over the next week, more than likely.
I really like this Happy Snowman pillow by fstasu57 (hmmm… I wonder if she goes to ASU like my husband does). If I had a larger decorating budget, I'd love to be able to invest in some nice Christmas decorations like this. I thought that this pillow was really cute. This designer has a lot of really nice products.
Hope that your Christmas season has had a great start, and that you've recovered from that Black Friday shopping, if you went.