Posted by Lorren on November 21, 2012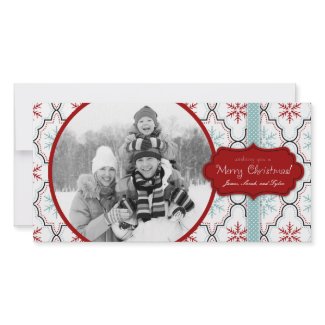 The Christmas season is just around the corner. Tomorrow in the US is Thanksgiving, where we get together with friends and family, have a nice meal, and have a good time. Today is one of the biggest traveling days of the year. People will be driving and flying to see their family throughout the entire country.
Tomorrow being Thanksgiving also means that it is the start of the Christmas holiday season. It'll be time to send out Christmas cards as well. A long time ago, that meant that you'd go to the greeting card store and pick out some cards, or buy a box of cards (that's still typically the cheapest way to go). Today, you can order customized photo cards to send to your friends and loved ones, like the one pictured here by holidayparade. Holidayparade has products for a wide variety of holidays; the page I linked to is their Christmas section. In addition to cards, you can find Christmas scrapbook paper and envelopes.
I hope that you have a wonderful Thanksgiving, and if you are traveling today, that you stay safe.