| | | | |
| --- | --- | --- | --- |
| News and Bible Prophecy, 8 November 2012 | | | |
Written by Brooke Lorren
Thursday, 08 November 2012 22:30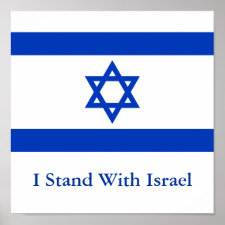 I Stand With Israel Print
by
Brookelorren
View more
Israel Posters
The US election is over, and half of America voted for the candidate that doesn't support Israel. The majority of people in some of the states voted for measures that supported assisted suicide, taxpayer-funded abortions, recreational drug use, and other measures that are against what the Bible says. Still, the prophetical timeline marches on. The US will pay for their vote. I was thinking about the elections, and realized that perhaps some people will wake up when they face the pain that will inevitably follow. If those of us that support the Bible have to suffer as well, then it is for a cause. If we suffer and people turn to God as a result, then it will be worth it. Still, it doesn't mean that it will be easy.

The results of the election can confirm that we probably really are in the end times. The Bible says that in the last days, perilous times will come. There will be a great falling away, and many people will stop loving God and will stop loving each other. If Mitt Romney had been elected, then it might have given us a signal that the end times weren't as close as we thought we were.

For a while, I have said that we were in the end times, and I didn't think that we were headed to a period of revival in the world, but that doesn't mean that I will stop fighting. I'm going to still tell people about Jesus. I'm going to still fight for the United States, and for freedom. I will still pray for Israel. God will take care of us, even in the end times.


Earthquakes in Diverse Places

Jesus said that in the end times, one of the signs of his coming would be "earthquakes in diverse places" (Matthew 24:7). We have seen that recently. There was a 7.4 magnitude earthquake in Guatemala that killed at least 48 people. In Vancouver, there was a magnitude 6.3 earthquake. Off the coast of California and Oregon, there was a magnitude 4.2 earthquake.

New Jersey and New York Slammed by Nor'Easter after Sandy

Right before Halloween, New York and New Jersey were hit by Hurricane Sandy. Power was knocked out all over the area, homes were destroyed, and a mixture of sea water and sewage flooded many areas. While people were still recovering from the hurricane, they were slammed by another storm; this one of freezing weather. More people had their power knocked out (some who had just had their power turned back on a couple of days ago).

In some areas, the Red Cross and FEMA hadn't even come to help yet before this storm arrived. Mercury One has been helping in some areas where other people haven't arrived yet, and ALL of the proceeds that you donate to disaster relief go to help the victims. If you wish to help, my charity of choice is Mercury One or Samaritan's Purse. There are, of course, other charities to donate to, but these are the ones that I support personally, either by donating my time or my money.

US Faces a "Fiscal Cliff"

No matter which president was elected, the United States is facing a "fiscal cliff". US citizens may face tax hikes or even worse in the future. There may be another recession coming.

Obama's election has caused a stock selloff around the world. Today, stocks fell for the second day in a row. Outside of the US, Asian stocks fell as well.

Palestine Gets a Boost Due to Obama's Victory

Obama's election is a great boost for the Palestinian cause (and conversely, is a depression of the Israeli cause). The Palestinians want Obama to support their statehood, now that he has been re-elected. The Israeli Defense minister, Ehud Barack, wants the Palestinian issue to be delayed.

The Bible tells us that the world will be against Israel at the end times. The book of Revelation tells us about the time that the people will fight against Israel. Ezekiel 38-39 tells us that God will help the Israeli cause during a war that brings many people against the state of Israel; it's my opinion that this war will happen before the Rapture prophesied by the Bible, because the Israelis will be burning weapons for seven years afterwards (the Tribulation lasts for seven years).
Other Headlines
Last Updated on Saturday, 10 November 2012 06:01